Welcome to Nicole's wisely collected home!
USA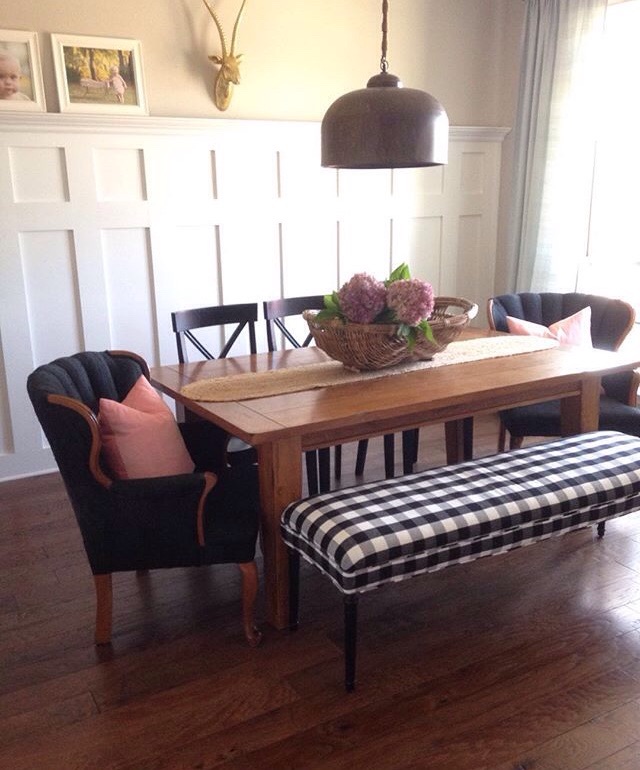 By Nicole @graceinmagnolias
Entry Way / Dining Room
The light that floods this space is a welcomed contrast to the rest of the house. I'm always searching for natural light for optimal quality photos and this space never disappoints. The vintage rug from Ecarpetgallery is the statement piece that anchors the massive chest of drawers. Bonus, I won the rug!!! The custom color the is most frequently asked question I receive and unfortunately I don't know the combination. The dining room is connected to the entryway, commanding attention. With the exception of the drum pendent, each piece in this shared space is thrifted or gifted. Everything from the silk Potterybarn curtains to the B&W buffalo check bench I had reupholstered.
Daughter's Room
My oldest daughter's monochromatic bedroom is also a collection of thrifted pieces. The metal vintage bed requires a step stool for my petite girl and a small army to move it but worth every cashed in favor to get it in this space. Inspired by my design hero Anissa from HouseSeven Blog, the Sharpie Marker feature wall a labor of love...for my husband, the muscle behind Grace in Magnolias! A bold gallery wall featuring my daughter's artwork is the only color on the white walls and the (hot pink spray painted) HomeGoods Toro is the crowning jewel for this Toro cheerleader.